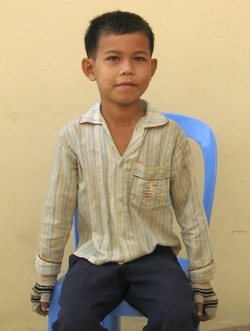 Our charity looks to define its school mission in Cambodia so that all its students -- and not just the good students -- benefit even after they leave our program.
Meet Ri Sotheara
Ri Sotheara can't remember his birthday, except that he was born in 2001. He tells us that besides playing marbles, he likes coming here to our School for Orphans and Vulnerable Children in Battambang, Cambodia. "Maybe I can be a teacher?" he quietly says when asked about what he'd like to do when he grows up.
According to his teacher, Sotheara is a nice boy but he's not a very good student. He's quiet and withdrawn, she remarks, watching him be in his own world, doodling in his notebook and fiddling with a marble.
A Monk Goes Home And is Given a Child
Ten-year-old Sotheara lives with his uncle, Yum Pao, who's a Buddhist monk at Wat Norea, which is where our school in our community centre is located. Yum Pao is from the same remote rural village as Sotheara's family -- Sotheara's mother is Yum Pao's sister. Yum Pao attended school up to ninth grade, but costs and distances proved too much of a hurdle for him to continue his education. Monkhood, with its life of poverty and daily regularity, was an alternative to life as a farmer with no land.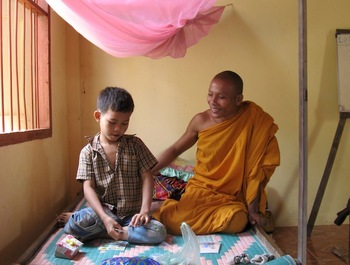 Five years ago, Yum Pao made a rare visit to see his family. There, his sister surprised him by asking if her one and only son, Sotheara, could live with him. She said that she and her husband could hardly feed their five children, much less pay for school.
I asked if the family hoped Sotheara, being the only boy, would do well in school and perhaps use his education to help the family. But Yum Pao indicated that this wasn't the case -- the family was confronted with extreme poverty and sending Sotheara to live with Yum Pao had come up as one option available to them.
So Yum Pao returned with Sotheara to Wat Norea where the two share a room. Sotheara has never visited his family since.
No Child Left Behind, Without the Tests
Life at Wat Norea isn't so bad -- there's shelter and enough to eat. In the mornings, Yum Pao goes out and begs for food with the other monks and, on weekends, Sotheara joins them to help carry whatever they collect. And while Yum Pao struggles to pay for Sotheara's expenses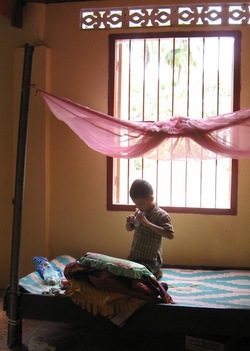 at the state public school, at least the temple is a safe environment for children.
The newly-opened school at our SCC*F2F Community Centre provides two years of absolutely free education for families who can't afford public school. The goal is twofold: to get children to like going to school and to get guardians to understand how education can help raise the quality of life for the family in the long run. After spending two years at our school, we foresee students wanting to continue studying at the state schools and their families willing to sacrifice to allow this to happen.
It's good that Sotheara's teacher was honest in saying that he isn't a good student. For us, recognizing that Sotheara may not excel in class is an important reality check. Our school was set up so every child can learn -- not just for those who excel in class.
Not every child is motivated. Not every child gets good grades, no matter how hard he or she tries. And not every child thrives in a competitive environment. So in our two years of schooling, we need to think of what happens to all our students after they leave our school.
Sort of like No Child Left Behind. Without all the testing.
The Best Years Of His Life?
So here's the issue with Sotheara
(pictured with Face-to-Face volunteer Glenn Ricci)
. What if Yum Pao still can't pay for Sotheara's education once he leaves our school? Sotheara, who'll be 12 by then, will probably work just to pay for school -- which will mean he'll be tired at school and have little time for homework. And if studying doesn't come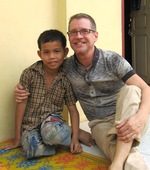 easy to him, he might find school increasingly frustrating and difficult as his life is dominated by work.
Right now, Sotheara comes every morning and has a good time in and out of classes -- he may be in his own world at times, but I've seen him laughing and running around with the other students. I'm sure he has more fun here than at the state public school, and perhaps he's learning more too. But the big question remains: for Sotheara, are these two years with us going to be the best years of his life?
If Sotheara doesn't blossom into a good student, what can we do to not leave Sotheara behind?
Keeping Contact & Sustainability
We're pursuing two ideas, of which the first is a program that allows us to stay in touch with students even after they leave our school. This youth program would continue providing opportunities they couldn't have elsewhere. Besides being fun (which keeps them participating), the program exposes them to non-academic subjects such as vocational training, the arts, community service, public speaking and compassion.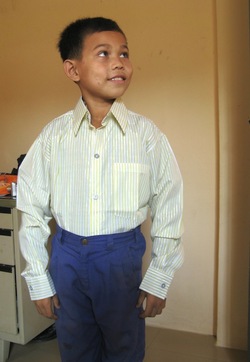 The program would encourage groups of students to do activities together and to take care of each other. The youth would regularly help not only each other, but also their community. In this way, they might gain respect and recognition in their villages and we might plant the seed in them that they can become future community leaders.
The longer we keep our students returning to the centre -- I'm thinking in terms of years, if not decades -- the more chances we have to help them live happier, rewarding lives. Perhaps some might even decide to devote their lives to community service, while others might attain jobs that allow them to support the school and the centre in the future. Similar to an alumni club but with a learning component to it, the youth program would also be an investment in the future of the school and the centre when the time comes for my Face-to-Face AIDS Project to turn our attention to another country in need.
Redefining the Goal of Education
The second idea that'll help us not leave students behind is to redefine the goal of education. Most people, especially in poorer countries, view education as a way to get ahead. Good grades = good universities = good jobs = good lives. But that's not attainable for all students.
Instead of higher test scores, the mission of our school, including a youth program, would be to nurture a love of learning. A joy of thinking. It doesn't matter what you want to learn. Sotheara could learn to love math or he could learn to love the patterns of marbles. Or ways of being a kind teacher. Or butterflies. Or something. The point is to nurture the mind to find joy in discovery.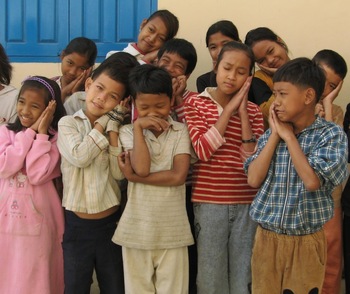 If Sotheara could learn to love learning, that could prompt him to explore ways to find happiness, even if it turns out that he doesn't excel in school and is still living in poverty. A love of learning might give him the inner skills to find solutions, even during times of misfortune.
And to find peace, even in illness or death.
Well, that's what a good Buddhist monk might have as a goal, although that's beyond my ability to imagine for myself.
Perhaps I should spend more time with Sotheara and his uncle in the temple...
(All photos taken by author. Above photo: Sotheara's class, acting tired.)
***
For further information about the Face-to-Face AIDS Project and how you can help, or to donate to the Face-to-Face AIDS Project, please visit the Contact & Donate page at FaceToFaceAIDS.org.
Read more: HIV/AIDS, Cambodia, Education, Buddhism, Charity, Happiness, Orphans, Aids, Hiv, Impact News