A dog is not considered a good dog because he is a good barker. A man is not considered a good man because he is a good talker.
The Buddha
Why is there so much confusion about President Obama? It is being said that he is dealing with a broken government. Perhaps what is most needed is for him to speak out more directly and openly to the people. Writing this blog made us realize how vague things appear in the White House, how we are not in touch with what Obama thinks or genuinely feels.
When he started his campaign we each felt that we were important to him and that he cared; now there seems to be a distance between us and we are less connected. We need to know what he is feeling. We need to believe that we have chosen a president who can carry through with what he promised during the campaign, that he was in it for others and not for himself. We need to know he will not compromise his truth.
All that we are is the result of what we have thought. If a man speaks or acts with an evil thought, pain follows him. If a man speaks or acts with a pure thought, happiness follows him, like a shadow that never leaves him.
The Buddha
In the eyes of his enemies, of which there are many, it seems that President Obama can do no right. They twist and turn everything he says and does and the name-calling is endless. Apparently he is killing far too many terrorists. They say with utter disbelief how he wants us all to have health care and to do it with bi-partisan support no less, and now he is spending way too more money to make jobs available. How awful is that!
It is extraordinary the low levels the GOP will go in their attempt to render Obama ineffective and stop him from making this country a better place to live. And even more extraordinary is the amount of press coverage the media are giving them. As Obama attempts to put right what Bush so carelessly threw away, we can only hope that, in time, the Republicans reap their own karma.
All wrong-doing arises because of mind. If mind is transformed, can wrong-doing remain?
The Buddha
Being a successful president of the most powerful nation in the world takes great skill, wisdom, assertion, and compassion. We need an everyday Buddha to handle the greed and ignorance that create so many lies and such pervasive sleaze. So many politicians are like hungry ghosts with huge bellies and very thin throats, willing to sell themselves and their country to satisfy their insatiable need for power. It's amazing how many people they convince to vote for them, which is effectively causing people to vote against themselves. Are we really so hopeless that we choose to suffer because of meaningless ideologies? We hope that President Obama has the fortitude and insight to rise above such corruption.

Better than a thousand hollow words, is one word that brings peace.
The Buddha
Obama has just met with the Dalai Lama, one of the world's most compassionate and wise spiritual leaders. We can only imagine what transpired between them. We also had a private meeting with the Dalai Lama and it was one of the most transformative moments in our lives. May it also be so with our President; may it bring him the strength to be himself, to honor the people, and stay true to what he knows is right.
What do you think the Buddha would say to President Obama? What would you like to say to him? Do comment below. You can receive notice of our blogs every Tuesday by checking
Become a Fan
at the top.
You can order a copy of our latest book at:
BE THE CHANGE, How Meditation Can Transform You and the World.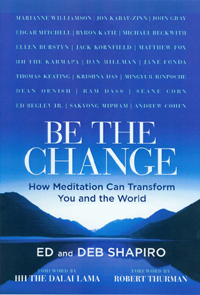 ****
Ed and Deb Shapiro's book,
BE THE CHANGE, How Meditation Can Transform You And The World
, forewords by the Dalai Lama and Robert Thurman, with contributors Marianne Williamson, astronaut Edgar Mitchell, Michael Beckwith, Jon Kabat-Zinn, Byron Katie, Jack Kornfield, Jane Fonda, Dean Ornish, Ellen Burstyn and others.
Join us at the Institute of Noetic Sciences for a workshop June 18-20, with special guest speaker astronaut Edgar Mitchell: www.noetic.org
Try our 3 meditation CD's:
Metta
--Loving kindness and Forgiveness;
Samadhi
- Breath Awareness and Insight; and
Yoga Nidra
- Inner Conscious Relaxation, available at:
www.EdandDebShapiro.com
Deb is the author of the award-winning book
YOUR BODY SPEAKS YOUR MIND.