If the totalitarian nightmare portrayed in George Orwell's
1984
strikes you as an implausible portrait of state control and repression, a single viewing of the Oscar-nominated documentary
Burma VJ; Reporting From A Closed Country
will quickly jerk you into reality. Using raw, eyewitness footage captured by underground, internet-equipped video journalists--members of Burma's gutsy Democratic Voice of Burma (DVB)--the film's Danish director,
Anders Ostergaard
, has crafted a compelling and vivid account of Myanmar/Burma's 2007 citizen's uprising, which saw the emergence of the country's highly revered
Buddhist
monks as pivotal political activists, and it chronicles the violent, heartbreaking finality with which the country's military dictatorship clamped down on the peaceful, democratic movement now known as the "Saffron Revolution."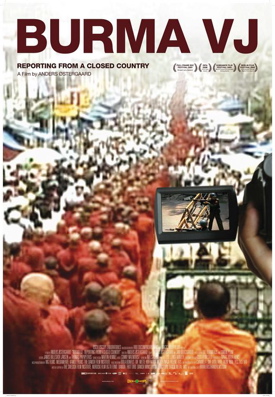 Burma VJ
follows DVB video journalist "Joshua" from the days just before the explosive events of September 2007 through the chaos, courage, violence and heroism that followed. It is hardly casual viewing. As Joshua, who suspects he's being watched, flees to Thailand to oversee DVB's operations remotely, thousands take to the streets of Rangoon, in support of arrested opposition leader
Aung San Suu Kyi
, producing scenes of civil disobedience that are as uplifting (and fraught with tension) as the footage that was broadcast to the West during the
1989 Tiananmen Square protests
in China. In fact,
Burma VJ
offers arguably a far more intimate and visceral portrait of these events because of the raw immediacy of the hand-held camera, and its clearly taboo status. There is virtually no scene in which the viewer does not recognize that the filming itself is a revolutionary act.
In one particularly urgent moment of the film, a DVB reporter interviews a huddled group of monks whose monastery had been attacked the night before by government thugs, who destroyed the building's interior and beat and kidnapped most of the over 200 monks in residence there. As the camera captures the fear, desperation--and yes, quiet dignity--of these young monks, another gang of government thugs appears again in the near distance, brandishing bats and clubs; later, the lifeless, saffron-robed body of a badly beaten monk is seen floating down a nearby river. Just as shockingly, at one of the uprising's penultimate demonstrations, a Japanese journalist is shot to death in the street and hauled off by military police. Elsewhere, in an initially quiet, poignant vignette, we watch as a government ban on assemblies of more than five people is defied by one, two, three, then four and five young Burmese, until the streets begin to teem with clapping, cheering marchers.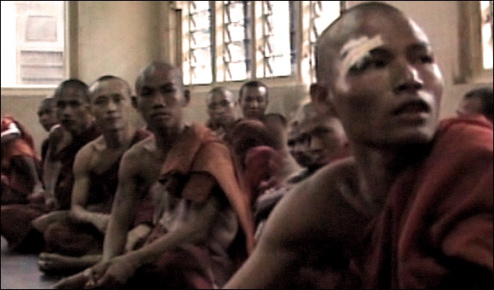 Like the previous Burmese uprising of 1988, the 2007 revolution was swiftly crushed--and with it another Burmese generation's hopes for a democratic society--but the DVB was able to reconstitute itself, and remains dedicated to funneling the truth out of Burma and countering the military junta's tightly scripted propaganda machine. As for the possibilities of a successful uprising in the future, the DVB's Executive Director, Aye Chan Niang, is pragmatic. "We don't believe that what we are doing right now will finally bring about democratic change in Burma," he confesses, "but we play an important role for people inside Burma and the international community. Millions of people inside Burma depend on us for reliable and uncensored news and information, and we are building the democratic foundation in Burma where differing opinions and beliefs can be argued freely and mutually respected. Hope for change in Burma is just a matter of time."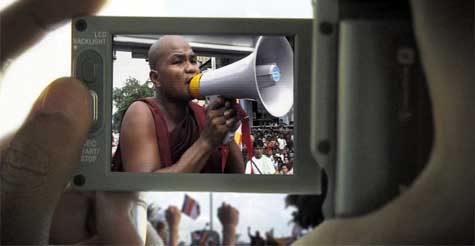 A film that blurs the lines between filmmaking and activism in a brave, uncompromising way that calls to mind recent documentaries like its fellow Oscar nominee (and eventual winner)
The Cove
,
Burma VJ
succeeds as both political message and cogent storytelling, which is perhaps why its effect is so chilling, and the sympathy it encourages so profound. "I have been truly inspired," says director Ostergaard, already a two-time recipient of Denmark's Bodil film award, "to see how a film can be so functional that people jump right off their seats after viewing, and ask what they can do to help. Nevertheless, in making the film I have been keen to keep my identity as a filmmaker rather than an activist. This is ultimately the best way to communicate with the audience."
Burma VJ: Reporting From A Closed Country
airs on
HBO
on April 27 (1:00 PM), April 30 (4:00 PM), May 2 (11:00 AM, 5:25 AM), May 6 (10:00 AM) and May 12 (12:30 AM).
HBO2
will air the film on April 28 (8:00 PM) and May 8 (12:00 Noon). For more information, visit the
Burma VJ website
, and the
Burma Campaign UK
.
Read more: Burma Human Rights, Video Journalism, State Control, Burma Protests, Civil Disobedience, Myanmar Junta, George Orwell, State Oppression, Theravada Buddhist, Burma, George Orwell 1984, Aung San Suu Kyi House Arrest, Tiananmen Square, Aung San Suu Kyi Detention, Burma Monks, Aung San Suu Kyi, Video, Buddhist Monks Mynamar, Burma Junta, Human Rights, Tibet Protests, Democratic Voice of Burma, Human Rights Watch, Saffron Revolution, Myanmar, Myanmar Protests, Buddhism, Totalitarianism, Dvb, Burma Campaign UK, Rangoon, The Co-Operative, HBO Documentaries, Impact News