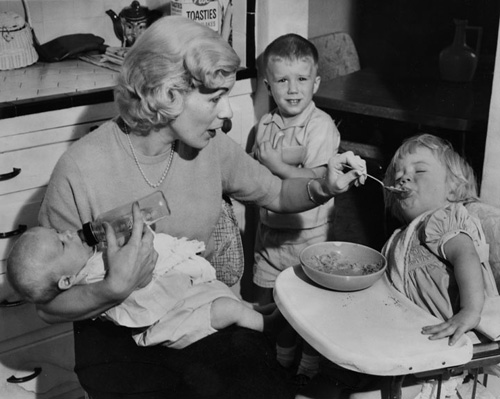 I know you are thinking I am going to write about some play group confession -- about how I did or did not join in singing
The Wheels on the Bus
and why that permanently impaired my children -- but today, in honor of Mother's Day 2010, I am going to take up the subject of most of the women I know who are now in play groups of another kind. The ones with our 85-year-old mothers who have outlasted their husbands by a long shot and who, according to the US Bureau of Statistics, have about 6.7 good years left.
Just as we have re-defined a little bit what motherhood was all about, so too are our mothers giving us a run for the money.
Now when we meet at social events, instead of discussing how Emma is stressing herself over her homework or Tyler's coach hasn't been letting him start, we are discussing trips to the doctor for heart monitoring, medication adjustment, hearing aid fine-tuning, cataract surgery and memory loss. We are meeting with lawyers and investment advisers about wills and DNRs. We are having lengthy conversations with Medicare and other insurers about nursing homes or private duty care. Mostly we are sharing tips and commiserating with one another--we seem to have stepped from one cauldron of care into another.
Of course it is not all rosy. One friend's mother is afraid of fraud and being murdered and no amount of private nursing seems able to dispel the paranoia that has sprung up alongside dementia.
My own mother vows never to go to a nursing home. She is out every night--many times on her own as friends bail at the 11th hour with ailments of one kind or another--usually taking advantage of one of the hundreds of free cultural offerings in the city or maintaining a few subscriptions with other like-minded culture junkies. She attends Shakespeare readings, lectures on Asian art, sexy Swedish movies, and financial seminars. By day, she plays tennis twice a week and walks five miles each weekend day. Her beauty regimen involves dyeing and setting her own hair and she does her own grocery shopping (sales and coupon intensive) and makes a mean chef's salad and minestrone soup she proudly adjusts seasonally. But she is not the exception.
Most of the mothers are remarkably active and resilient. One has followed her daughter cross country to a new nursing home as her daughter has taken up a prestigious college presidency. Another routinely borrows her daughter's chic clothing and jewelry as they are the same size and expects to attend the same, big league, social events. Still another happily accepts a birthday trip to Venice with her daughter and does not flinch when she has to be carried out of the motoscofo by two attractive, burly deckhands. One is so up to date on current events and eager to engage in political discourse that her daughter must be sure to read the paper cover to cover each day in order to keep up. Eighty-five turns out to be the new forty.
The other night mine called me immediately after seeing a film on southeast Indonesian sculpture to tell me the wavy, colorful, Buddhist-inflected art had magically improved her double vision. This is what I call the benefits of culture!
To be sure, culture is not only what they seek. Many of these mothers are still hopeful that they will meet another man. These were the fifties moms and no amount of
Mad Men
gloss can paint over what was by and large an very constricted time to be a wife and mother. Mine gave up brilliant writing and painting and turned to tennis to keep her competitive spirit alive. Though other moms did work, most were silent in suburbia and you only have to read Betty Friedan to know how that turned out. Men defined them in ways we can only suspect and they still want and need the validation that came to be part of their daily pick-the-husbands-up-at-the-station gestalt. Alas, the Bureau of Statistics and their own eyesight still keen enough to detect a man has bad news for them: there are not that many guys around their age--and if they exist, they don't necessarily want to date women their own age.
But the truth is: I can hardly keep up with my mother, whose energy level and curiosity continually amazes me. Maybe all those years of
Mad Men
repression has given them these extra years to make up for the ones they involuntarily lost.
Read more: Bureau of Statistics, Venice, Shakespeare, Asia Society, Mothers Day, Buddhism, Mad Men, Living News