Fear is an interesting animal. It sneaks up on you when you least expect it and takes on a life of its own, a fun fact of which I was reminded in Thailand last year. The morning after an incredible day of elephant riding in the jungle ('cause that's how I roll) raging red bumps erupted all over my legs. Very nasty business.
Call me a wimp, but the mysterious-ailment-in-a-strange-country situation freaked me the hell out. Even though this dramatic post-elephant condition is surprisingly common, even though we were surrounded by seductively calming Buddhist culture, and no longer in the wilderness but checked into a posh resort in Chiang Rai, near the Burmese border.
I knew I would be fine, this was nothing serious, but I still couldn't shake the uneasiness.
Many travelers, like the kind-hearted "mountain man" who was one of three journalists on our adventure-themed trip, are tougher than I when it comes to bodily fiascoes. (I'm tough in other ways, don't worry.) Sympathetic to my distress, Mountain Man tried to reassure me with tales of various afflictions he contracted while traversing the globe armed with a pocket knife and flashlight strapped to his head: Violent bouts of malaria in India, rabid man-eating roosters in the Amazon, Big Foot attacks while repelling through the Arctic. (I'm exaggerating, of course, but not by much.) "But a bit of meds from my trusty first aid kid and I was just fine," he'd say, patting me on the back and running off to photograph something.
Like characters in a Woody Allen film, my legs had taken on lives of their own. Their sole purpose? To drive me crazy. I don't even know what I was scared of; nothing and everything, life and death, I guess. (You know, the usual.)
I could blame it on Boon Pak, a sixteen year-old elephant who had been rescued from the circus a few years prior, but it wasn't his fault. Boon Pak rocks. We spent a whole day together at Patara Elephant Farm, a sustainable breeding camp an hour outside Chiang Mai. Soulmates? Maybe. As pachyderms go, he was a star, beautiful and feisty, with long ivory tusks coveted by poachers. I was secretly flattered that Pat, the farm owner, had matched us up.
Pat even supplied a poncho.
I didn't wear the poncho, but turns out I'm a natural. Guided by the camp's mahouts (elephant trainers) I washed and fed him as we got to know each other.
In a sign of the times, the mahouts -- handsome young guys from neighboring hill tribes -- have also become superb digital photographers adept at snapping shots of elephant-riding guests.
Oh, we got along swimmingly, Boon Pak and I. As if I'd been doing this all my life, I stepped on trunk and he lifted me onto his back. The other visitors followed and we led the procession up a long, steep trail. (Ahead, even, of Mountain Man.) On our journey, a tropical thunderstorm turned the jungle into a mud bath and I somehow knew to just trust Boon Pak and enjoy the ride. Eventually, drenched and giddy, we arrived at a waterfall. We both jumped right in. I felt more calm love radiating from this creature than I have from any human.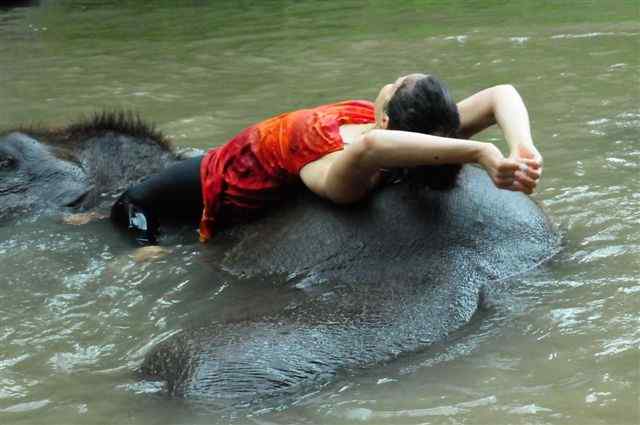 About elephants: They're gentle, strong, smart, fun, empathetic, reliable, earthy, and considered good luck. Buddhists believe elephant is on top of the animal pyramid. If you're an elephant in this life, you'll be a human in the next.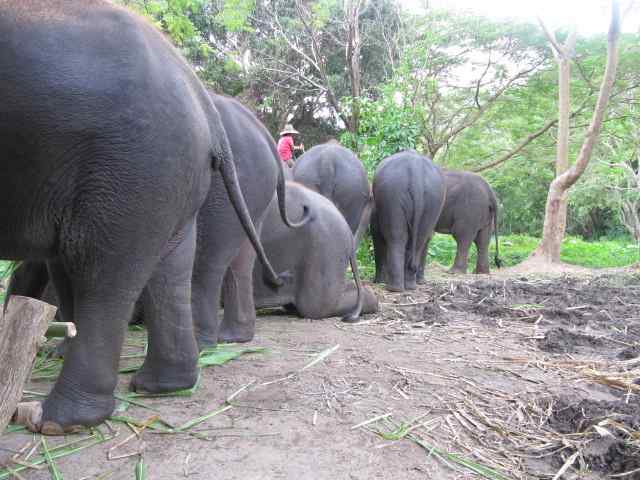 And did you know they only sweat through their toenails?
They're also vegetarian, as I've been since age 12 when I lived for a year on an Israeli kibbutz. (Its slaughterhouse was nothing fancy, lambs and chickens, mostly, but still wildly disturbing to see the friends I'd played with the day before now dead on my plate.) Animals and I understand each other, but I'm allergic to many, including, decreed a Bangkok physician a few days later, elephants. (And evidently to the mites on their hair that had bitten my skin, softened from the rain and river.)
The whole mess had gotten infected. Equipped with prescriptions and sweet reassurance that I would be fine, I was on my merry way.
My skin condition cleared up eventually. As for my human condition, and the dark angst that sometimes accompanies it, well, I'm working on it...
Read more: Vegetarian, Fear, Elephants, Angst, Good Luck, Thailand, Animals, Vegetarianism, Woody Allen, Elephant Riding, Neurosis, Chiang Mai, Buddhist, Mahout, Chiang Rai, Bangkok, Buddhism, Travel News