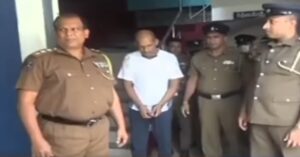 A thief who was on the run after stealing from several houses and shops, Nigel Jacotine, has been arrested.
Nigel Jacotine alias Nigel Ghouse, was arrested in Wellampitiya by the Police Colombo Crimes Division (CCD).
The Police said that he had a grenade, knife and heroin in his possession at the time of arrest.
Nigel Jacotine had stolen from some leading stores in Colombo as well as from a house of an Anglican priest.
He had also threatened and assaulted at least one female.
However, the Police were unable to locate and arrest the suspect who was on the run.
The CCD has now arrested the suspect and further investigations are underway. (Colombo Gazette)