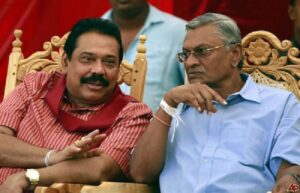 Former Minister Chamal Rajapaksa says his brother, Mahinda Rajapaksa, should have retired after completing his term as President.
He said that failure to do so has led to him having to face the current situation.
Chamal Rajapaksa noted that Mahinda Rajapaksa had made several sacrifices over a period of 50 years for politics.
He said that when engaging in politics one needs to also learn to let go.
The former Minister said that being greedy for power leads to situations like what is being faced today.
Chamal Rajapaksa said that if one lets go at the right time they will be able to continue in politics.
Mahinda Rajapaksa was President for two terms but lost in 2015 to Maithripala Sirisena.
The former President was later appointed Prime Minister for a short period by Maithripala Sirisena and later by President Gotabaya Rajapaksa.
Mahinda Rajapaksa resigned as Prime Minister on 9th May following the attack on peaceful protesters at Galle Face by a mob led by and instigated by Government MPs.
He had to seek refuge at a Navy camp as mobs began to hunt him over the attack on peaceful protesters at Galle Face. (Colombo Gazette)