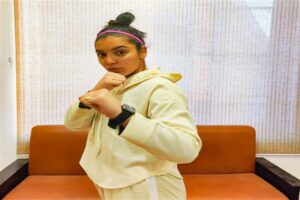 Srinagar, Dec 20: Afreen Hyder was just 7-years-old when she started playing taekwondo. Initially it was fun but gradually she started developing interest and soon it turned into a passion.
Recalling her childhood days, Afreen says, "As a kid I was fascinated by action movies. One day in my school, I saw some children practicing, so I went to them and asked them what it is and they said it is a game called taekwondo and then I asked my sports teacher if she could train me."
"Back then I did it just for fun but after practicing it regularly I got addicted to it and I turned it into my passion," she added.
Resident of Kashmir's Nowgam area, Afreen has played on various national and international platforms and has won more than 30 awards including gold, silver and bronze.
"My parents have always been supportive, especially my mother has been a backbone for me as she has always been there for me. She supported my game and raised me as a strong woman. I consider my mother as my role model," says Afreen.
She believes that if a person has the support of his parents nothing else matters.
She played her first Nationals in 2010 and won a gold medal there and it became the turning point of her life. Since then she has been continuously playing for national and international levels.
"When I won a gold medal for the first time in taekwondo in 2010, it encouraged me to explore more."
In 2017, she became the first ever official junior medallist in the history of Jammu and Kashmir taekwondo. It was the first time for Jammu and Kashmir to win the gold medal in official junior nationals and Afreen became the first girl of Jammu and Kashmir to bag the gold medal for her state.
In 2017 she also got selected in team India and played the first International women's championship at Nepal and won a bronze medal there.
"It was an amazing experience playing for team India. My best experience was when I got my team India jersey for the first time and it had India written on the back. That was an amazing feeling. I still have that jersey and that is the most precious thing for me."
Afreen has also started a campaign by the name of ' Ab Khelaiga Kashmir' where she has conducted almost 10 fitness camps.
"I have also recently opened my own academy 'Fitness with Afreen', where every type of sport is played and it's a whole fitness thing."
Afreen was recently appointed as the official coach for Taekwondo in Kashmir under Khelo India Sports Authority of India and State Sports Council.
While talking about her dream, she says that the Olympics is her dream.
"For me sport is my religion and I dream for the Olympics and for that I'm preparing very hard to achieve my goal." -(RisingKashmir)