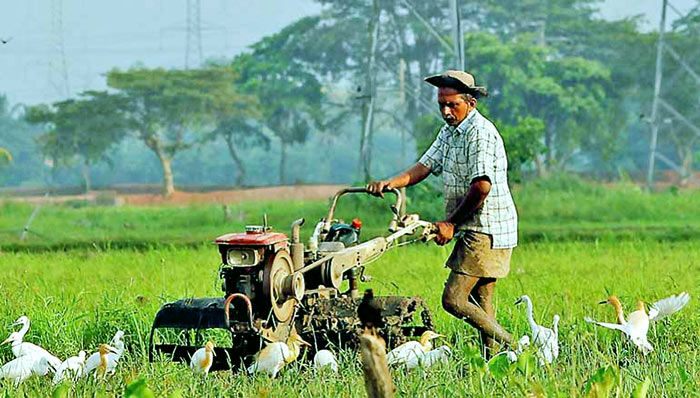 The country's economy in 2017 had grown by only 3.1%, the slowest rate in 16 years and lower than the 4.4% achieved in 2016, as per data released yesterday by the Department of Census and Statistics (DCS).
The Gross Domestic Product for Sri Lanka for 2017 (January to December) at constant (2010) price has reached Rs. 9,315,488 million while GDP value reported for 2016 was Rs. 9,034,290 million.
The four major components of the economy – agriculture, industry, services and taxes – less subsidies on products have contributed their share to the GDP at a current price by 7.7%, 27.2%, 55.8% and 9.3% respectively for 2017.
DCS said Sri Lanka had experienced inclement weather since 2016. The agriculture sector of the economy has been badly affected mainly due to the unfavourable weather conditions, severe drought as well as heavy rainfall, which prevailed during the last two years in many districts of the country, and as a result the agriculture sector has reported negative quarterly growth rates in all quarters other than the fourth quarter of 2017.
As a result, the agriculture sector has reported a 0.8% negative growth rate for 2017. During 2017, the highest growth rate of 3.9% was reported for overall industrial activities. Services activities have grown by 3.2%, compared to the previous year.
Performance in agriculture activities
Overall agricultural activities reported a negative growth rate of 0.8% in 2017. Among the sub-activities of agriculture, some of the agricultural activities have reported negative growth rates during 2017, compared to the previous year. 'Growing of oleaginous fruits; Coconut', 'Growing of vegetables', 'Growing of cereals', 'Growing of rice' and 'Marine fishing' reported negative growth rates of 19.5%, 16.2%, 10.3%, 4.0% and 2.0% respectively.
However, a number of key agricultural activities have reported positive growth rates. Among them 'Forestry and logging',' 'Fresh water fishing', 'Growing of fruits', 'Growing of rubber', 'Growing of tea' , 'Animal production' and 'Growing of Spices' have recorded positive growth rates of 22.0%, 10.7%, 7.4%, 4.9%, 4.8%, 3.9% and 0.5% respectively.
Performance in industrial activities
Industrial activities have recorded a moderate growth rate of 3.9% in 2017. Among the industrial activities, the Construction activity, which corresponds to a considerably higher share for the industrial activities, increased by 3.1%.
In addition, the sub-activity of 'Mining and quarrying' recorded 5.9% of the growth rate. During 2017, manufacturing activities which come under industrial activities had grown by 3.9%. The major proportion of the generated gross value added of this sector is shared by the two activities of the 'Manufacture of food, beverages and tobacco products' and 'Manufacture of textile and wearing apparel' which have reported significant growth of 1.5% and 5.7% respectively during 2017.
In addition, the 'Manufacture of rubber and plastic products', 'Manufacture of basic metal and fabricated metal products' and 'Manufacture of machinery and equipment' have grown by 8.7%,
8.6% and 6.7% respectively when compared with the previous year. The value added amount of 'Electricity, gas, steam and air conditioning supply' has increased by 2.7% over the period under consideration.
Performance of service activities
Among the three major activities (agriculture, industries and services), the services activities which correspond to the highest contribution (55.8%) to the GDP, recorded a positive growth rate of 3.2% during 2017, when compared to the previous year.
The performance of the services sector was underpinned especially by the sub-activities of 'Programming and broadcasting activities',
'Telecommunication', 'Financial service activities', 'Human health activities', 'Insurance activities' and
'Wholesale and retail trade' reported significantly higher growth rates of 13.2%, 12.0%, 9.4%, 7.2%, 5.7% and 3.8% respectively compared to the previous year.
The DCS also revealed that the GDP at a constant price for the fourth quarter of 2017 has been estimated at Rs. 2,623,541 million, registering a 3.2% growth rate compared to the fourth quarter of 2016.
During the fourth quarter of 2017, 'Industrial activities' have reported 2.7% expansion and 'Services activities' have recorded a positive growth rate of 3.2%. However, during the last quarter of 2017, 'Agricultural activities' have reported a positive growth rate of 7.1%.
On Friday, the DCS briefly released the 2017 GDP data only to be withdraw it soon after.
"We got the last set of data at the last minute. We released the GDP data but since this is the last quarter we need to calculate the full year data and revisions," A.J. Satharasinghe, Director General at the State-run Department of Census and Statistics, told Reuters.
"It's a long process so we withdrew the data as we can't allow even a slight mistake in the data. We are recalculating and compiling everything. We will release the data in one or two days."
(Source: Daily FT)
The post 2017 sinks to slowest economic growth in 16 years appeared first on ONLANKA News :. Sri Lanka Breaking News Updates - Latest Sri Lanka News.