Chinese role in the Sri Lankan crisis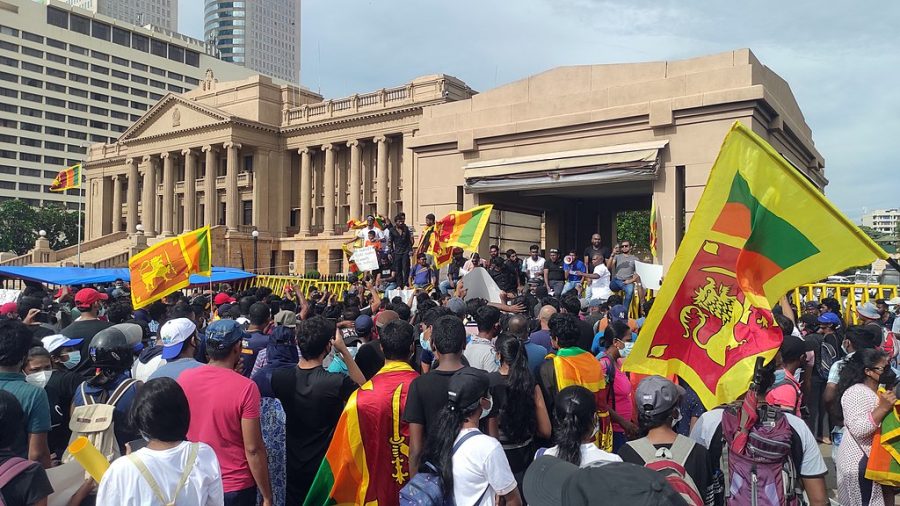 In the midst of the unfolding crisis in Sri Lanka and its economic and political collapse, it has been forgotten that China is complicit in creating the present unrest. This fact needs to be recognized within Sri Lanka, where the people have taken it upon themselves to 'reform' the political system. While their mission is laudable, they need to recall that behind their angst with the Rajapaksa family lies the Chinese hand, which corrupted the Sri Lankan system for over two decades. When Sri Lanka faced economic collapse, China promptly turned a blind eye and shifted the blame onto the borrower. In the long run, the economic and political chaos that has hit Sri Lanka will have a "big impact" on ties with China.
Sri Lanka has been trying to rebuild its economy after the civil war and, more recently, after the Covid-19 pandemic, which badly hit the tourism industry. Tourism supports 10 to 15 percent of Sri Lanka's economy. The crisis was exacerbated by Russia's invasion of Ukraine, as Russia is the third largest market for Sri Lanka's tea exports and was unable to pay after it was blocked from the SWIFT global payments system. At this stage, Sri Lanka had asked China for help, including a US$1 billion loan to meet repayments and a US$1.5 billion credit line to buy Chinese goods. No progress was made despite months of negotiations, demonstrating that China was no longer interested in Sri Lanka.
Populist policies pursued by the Rajapaksa government undoubtedly lie at the heart of the present crisis. Mismanagement of the economy was also quite apparent. However, both these are linked to the China factor. Prime Minister Ranil Wickremesinghe, who declared the nation "bankrupt" recently, is well aware of the depth to which China has penetrated the island nation. This stems from the aid and assistance given by China, firstly to end the civil war in Sri Lanka and later, by pumping vast amounts of money in the form of loans to create infrastructure and 'convert' the island nation into another Singapore (as the Rajapaksas dreamt of).
Interestingly, China supported Mahinda Rajapaksa and his brother Gotabaya in the aftermath of the civil war, protecting them from charges of human rights violations alleged to have been committed during the war with the LTTE. Also, in the decade prior to 2015, China became Sri Lanka's leading development assistance and FDI source. According to data from Chatham House, China invested US$12.1 billion in Sri Lanka between 2006 and 2019.
Mahinda Rajapaksa, who was in power from 2005 to 2015, agreed to several Chinese infrastructure projects, including a port in Hambantota that was subsequently leased to a Chinese state firm under a 99-year deal as part of a debt-for-equity swap.
Significantly, China chose to work with the Rajapaksas by providing assistance, ostensibly for economic development. Provision of aid and assistance was co-terminus with corruption in the Mahinda years in power. This decade was sufficient for the Rajapaksa family to entrench itself in Sri Lanka, with China providing external support. Thus, the Rajapaksa family, which dominated Sri Lankan politics until recently, was able to remain in power primarily because of Chinese support.
One aspect of the Chinese model of economic development adopted for Sri Lanka (and which was not used only in Sri Lanka) related to a handful of Chinese companies investing in specific projects, with abstract agreements to govern such investments and the ready acceptance of loans with higher interest rates by the Sri Lankan government. A similar situation was obtained in the China-Pakistan Economic Corridor (CPEC) in Pakistan, where China insisted that only Chinese companies should work on projects! China provided the Rajapaksa's election campaign funding in return for fulfilling their needs. Over time, as governments in Sri Lanka changed, it was found that the entrenchment of Chinese investment was so deep that "de-coupling" was virtually impossible. President Maithripala Sirisena discovered this when he took office in 2015.
Sri Lanka has a history of sustaining its economic growth through external borrowings, and China has been one of its major lenders. However, in terms of percentage of lending, China's 10 percent of lending compared to 47 percent of lending from the private market seems normal. However, the fact remains that these market borrowings are not from a single entity, and neither are these lenders able to change the broader geopolitical structure as China managed to do. Additionally, China has offered excessive projects and loans to Sri Lanka despite its economic and political limitations and vulnerabilities.
In the larger context, it must be reiterated that the China factor in Sri Lanka looms large in the current crisis, but in a negative sense. A gentle reminder is required for those wanting to brush this under the carpet. China had preyed on Sri Lanka's economic vulnerabilities, loopholes, and corrupt practices for its own political and financial calculations. China's lack of concern for Sri Lanka's economic and political condition resultantly permitted the spread of corruption and endemic borrowing. Their complicity in this situation was aided by a supportive Sri Lankan government of the day, whose sole interest was to fill their coffers. Sri Lanka's economic development was thus made hostage to Chinese investments, which aggravated the structural weaknesses in the economy, thereby contributing to the current crisis.
For China, to thus distance itself from the current situation is disingenuous. They know full well who is to blame. The creditor may well blame the borrower, but as this analysis shows, both share the responsibility for the present predicament facing Sri Lanka. The only problem is that China is trying to dilute its role and absolve itself. This is precisely what the Sri Lankan people need to know. Their anger is currently directed against a President who has flown to the Maldives. But what about the Chinese who had, for the past two decades, blessed the Rajapaksas in their mis-governance of Sri Lanka? (globalstratview)