Sri Lanka should prevent Chinese vessel from reaching Hambantota port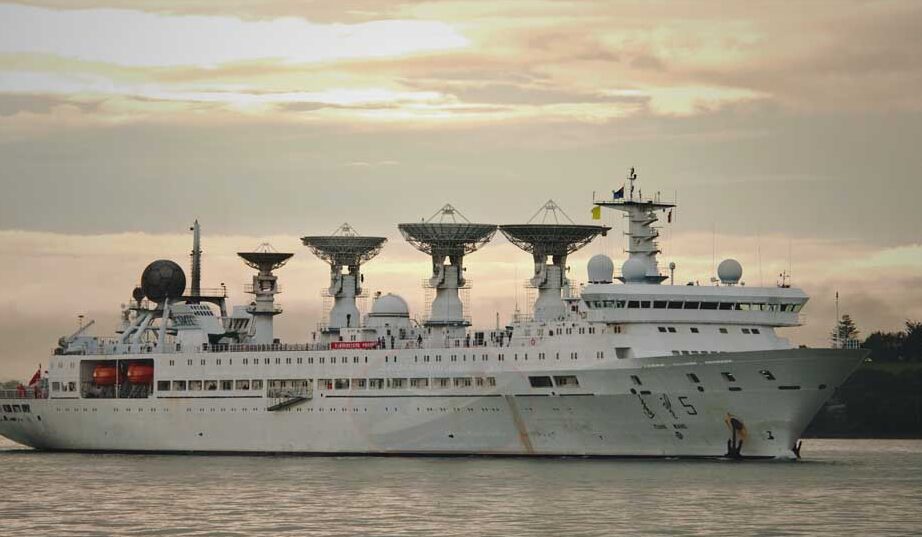 Sri Lanka has allowed a Chinese spy vessel to dock at the Hambantota port this month, the island nation's Army spokesman said on Sunday, days after India said it carefully monitored any development having a bearing on its security and economic interests.
The Yuan Wang 5 is a space-tracking ship used to monitor satellites, rockets and intercontinental ballistic missile launches. The Indian navy is monitoring the movements of this Chinese research vessel that is bound for Sri Lanka's Hambantota port. The vessel is scheduled to dock at Hambantota port in mid-August. However, the Chinese side has sought approval for the dock in the name of "replenishment" which seems to be indistinct.
Initially denying reports of its expected arrival at Hambantota port, Sri Lanka's defence ministry confirmed on Saturday that the vessel would be docking at the port between 11 and 17 August.
Normally, such vessels are deployed when China or any other country is carrying out missile tests. However, such Chinese vessels and their activities are constantly monitored by concerned authorities of India.
The Yuan Wang 5 is a third generation vessel in the Yuan Wang class series and entered service in 2007. It has a displacement of 25,000 tonnes and can hold out against a maximum wind scale of 12. The Yuan Wang 5 was built by the state-owned Jiangnan Shipyard in Shanghai. It reportedly also has an aerial reach of 750 km. The Yuan Wang series vessels are operated by the Strategic Support Force of the People's Liberation Army (PLA).
The southern deep-sea port of Hambantota is considered strategically important for its location. The port, located in the hometown of the Rajapaksa family, has been developed largely with Chinese loans.
Asked for his comment on reports about the possible docking of the Chinese spacecraft tracking ship 'Yuan Wang 5' at the Hambantota port, the Sri Lankan Army spokesman Colonel Nalin Herath said Sri Lanka routinely gives clearance to enter commercial and military ships from many countries to go past and also enter Sri Lankan waters. This is not factually correct because such a vessel has never been docked to Hambantota.
Yuan Wang 5 is expected to conduct satellite control and research tracking in the north western part of the Indian Ocean region through August and September.
India has got furious on this move by the China which appears to be supported by Sri Lanka.
Meanwhile, Sri Lanka's main Tamil minority party TNA on Sunday said China's military presence in the Indian Ocean would give India a legitimate defence concern and that Colombo should not accentuate that by providing space for Chinese military presence.
"Chinese spacecraft tracking ship Yuan Wang 5 entering the Hambantota Harbour on August 11 has again given rise to tensions in the region. We do not take sides with regard to power struggles between other countries," the TNA said in a statement.
India has traditionally taken a stern view of Chinese military vessels in the Indian Ocean and has protested such visits with Sri Lanka in the past. India's concerns have been focused on Hambantota port in particular.
In 2017, Colombo leased the southern port to China Merchant Port Holdings, after Sri Lanka was unable to keep its loan repayment commitments, fanning fears over potential use of the port for military purposes.
The proposed visit by the vessel comes when Sri Lanka is grappling with a severe economic crisis.
India has been at the forefront of extending economic assistance to Sri Lanka as it is grappling with the worst economic crisis since 1948.
As the new Sri Lankan president looks at pulling the country out of its economic crisis, India last week said that it will continue to assist the island nation and support its people in their quest for stability and prosperity.
The arrival of Yuan Wang 5 is also in violation of agreement between Sri Lanka and China which states that Hambantota port would not be used for military purposes. The long standing foreign policy of Sri Lanka is that it will not allow any activity which put Indian security interests at risk.
This act by the China will push the region further towards military rivalry between China and India. The Indian Ocean Region would become a battlefield which will severely affect Sri Lankan economic and strategic interests as well. Sri Lanka should not endorse such deliberate attempts of China which could create unrest in the region.
Not only that, Sri Lanka needs to be more mindful of the current economic crisis across the country. India has been the only country who has come forward to rescue the island from the crisis and even helping Sri Lanka by pushing its own economic limits.
China has brought this matter in at a time when there is a political instability in the island. However, to deal with such situations, the decisions should be taken after consensus amongst all parties in the country. It appears that this imbroglio will attract lot of difficulties for Sri Lanka, in case permission to this vessel is not withdrawn. The island will economically sink further if the island does not give up charm of going and sitting in the lap of China.
Any reluctance from India's side to help Sri Lanka would further worsen the already damaged Sri Lankan economy particularly because India has strong influence on multilateral creditors and IMF.
The visit of Yuan Wang 5 to Hambantota would damage Sri Lanka's relationship with India particularly just after India has given a huge financial support to Sri Lanka. India has been the only country who helped Sri Lanka to survive during its foreign exchange crisis.