UK among more than 30 countries to support ban on Russian and Belarusian athletes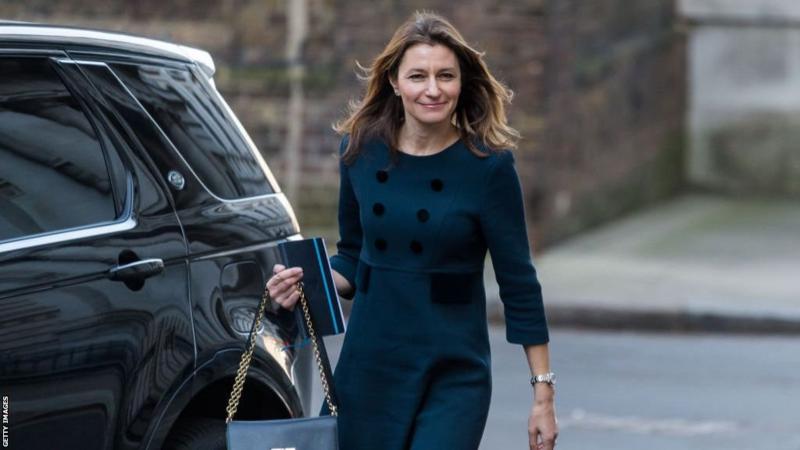 The United Kingdom is among more than 30 countries that have pledged support to an ongoing ban on Russian and Belarusian athletes competing in international sporting events amid Russia's invasion of Ukraine.
It follows a summit involving all the nations earlier this month.
The International Olympic Committee is "exploring a pathway" for Russians and Belarusians to compete as neutrals.
UK culture secretary Lucy Frazer said the IOC's plans were "not credible".
Representatives from countries including France, Germany, Poland, the United States and Canada attended the 10 February summit, which was chaired by Frazer.
Ukraine, which was not part of the summit, has threatened to boycott the 2024 Paris Olympics if the IOC allows Russian athletes to compete.
In a statement, Frazer said: "This coalition of nations has supported Ukraine on multiple fronts and we will continue to do so.
"Today we are setting out our serious concerns with the International Olympic Committee's plans which could see a route back into elite athletics for Russia and Belarus.
"Any plans to allow Russian and Belarusian athletes to participate in Paris are not credible. With the prospect of tanks from the United Kingdom, United States and European partners arriving in Ukraine over the coming weeks, and President Zelensky expressing serious concerns that a spring offensive by Russia is imminent, we urge the IOC to reconsider its position."
The IOC called on federations to exclude athletes from Russia and Belarus following the invasion of Ukraine and banned the nations from the Winter Paralympics in March 2022 – though athletes were allowed to compete under a neutral flag.
Some sporting federations have ignored the IOC recommendation and allowed individual athletes to compete as neutrals, but others have complied.
Belarusian Aryna Sabalenka won the Australian Open in January competing as a neutral, and the Lawn Tennis Association was fined £1.4m by the ATP and WTA for banning Russian and Belarusian players from last summer's grass-court events, including Wimbledon.
IOC president Thomas Bach said in December the organisation faced a "big dilemma" in ensuring athletes do not suffer as a result of sporting sanctions.
Ukrainian President Volodymyr Zelensky said allowing Russia to compete in Paris would amount to showing that "terror is somehow acceptable".
Monday's collective statement said "there is no reason" for the IOC to reverse its decision last year to ban athletes from Russian and Belarus from competition.
The countries expressed "serious concerns about how feasible it is for Russian and Belarusian athletes to compete on a neutral basis given they are directly funded and supported by their states" and said there are "clear concerns over the strong links and affiliations between Russian athletes and the Russian military".
The statement urged the IOC to reconsider its proposal and said the only way athletes from Russia and Belarus should return to the international sports community was by their countries "ending the war they started".
France – hosts of the 2024 Olympic and Paralympic Games, 2021 hosts Japan, 2026 Winter Olympics hosts Italy and the United States, which will host the 2028 Summer Olympics, are all among the countries involved.
Countries which signed the statement
Austria

Belgium

Canada

Croatia

Cyprus

Czech Republic

Denmark

Estonia

Finland

France

Germany

Greece

Iceland

Ireland

Italy

Japan

Republic of Korea

Latvia

Liechtenstein

Lithuania

Luxembourg

Malta

Netherlands

New Zealand

Norway

Poland

Portugal

Romania

Slovakia

Slovenia

Spain

Sweden

United Kingdom

United States of America
(BBC)