Zelensky wants Xi Jinping meeting following China's peace plan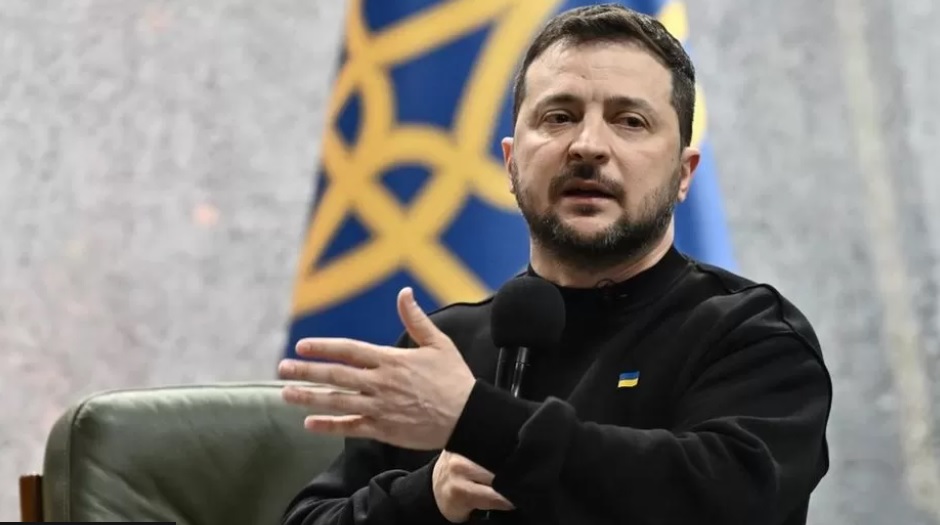 Ukrainian President Volodymyr Zelensky has said he plans to meet China's leader Xi Jinping to discuss Beijing's proposals on ending the war in Ukraine.
Speaking on the first anniversary of Russia's full-scale invasion, he said the proposal signalled that China was involved in the search for peace.
"I really want to believe that China will not supply weapons to Russia," he said.
China's plan calls for peace talks and respect for national sovereignty.
However, the 12-point document does not specifically say that Russia must withdraw its troops from Ukraine, and it also condemns the usage of "unilateral sanctions", in what is seen as a veiled criticism of Ukraine's allies in the West.
The Chinese authorities have so far not publicly responded to Mr Zelensky's call for a summit with Mr Xi.
Meanwhile, Russia hailed the Chinese peace proposals. "We share Beijing's views," the foreign ministry in Moscow said in a statement.
Asked about the Chinese plan, US President Joe Biden told ABC News on Friday: "[Russian President Vladimir] Putin's applauding it, so how could it be any good?
"I've seen nothing in the plan that would indicate that there is something that would be beneficial to anyone other than Russia," he added.
China appears to be siding with Russia, though it would like to find a way of rescuing President Putin by arranging some kind of face-saving peace deal, says the BBC's World Affairs Editor John Simpson.
The Chinese proposals follow a visit by the country's top diplomat Wang Yi to Moscow, where he met President Putin and Foreign Minister Sergei Lavrov on Wednesday.
After the talks, Mr Wang was quoted by China's state-run Xinhua news agency as saying that Beijing was willing to "deepen political trust" and "strengthen strategic coordination" with Moscow.
Western officials gave the latest proposals a lukewarm reception. Nato chief Jens Stoltenberg said Beijing "doesn't have much credibility" because it had "not been able to condemn the illegal invasion of Ukraine".
President Putin launched the full-scale invasion of Ukraine on 24 February 2022, and Russian troops made significant advances during the first few days in Ukraine's north, east and south.
But the attack on the capital Kyiv was soon repulsed and the Ukrainian military was later able to retake large areas.
The conflict – the biggest in Europe since World War Two – has since become a grinding war of attrition.
At a lengthy news conference in Kyiv on Friday, Mr Zelensky also said victory "will inevitably await us" if allies "respect their promises and deadlines".
Poland said it had already delivered four German-made Leopard II tanks to Ukraine and was ready to deliver more. Germany has said it will provide 14 Leopard tanks, with Spain and Canada also sending tanks.
The US – by far the biggest provider of military aid to Ukraine – has pledged to send 31 of its M1 Abrams tanks and the UK is providing 14 Challenger 2 tanks.
The Ukrainian leader added that his country had failed to engage sufficiently with countries in Africa and Latin America after many nations in those continents abstained during a UN General Assembly vote on a resolution condemning Russia's invasion.
"We didn't work well for many years, we didn't pay attention, I think it's a big mistake," he said.
Asked if he could name his worst moment of the war so far, Mr Zelensky said Bucha, a town outside Kyiv where Russian troops are accused of having killed civilians in the early part of the war. The small town had been under Russian control until Ukrainian troops fought back last April to reclaim it.
"What I saw. It was horrible," Mr Zelensky said, visibly moved.
The US marked a year since Russia invaded Ukraine by announcing a new range of sanctions against Russia and new aid for Ukraine.
The latest restrictions target more than 100 entities both within Russia and worldwide, including banks and suppliers of defence equipment. The US said it wanted to stop those helping Russia exploit loopholes to get sanctioned materials.
The White House's fresh round of aid for Ukraine is worth $12bn (£10bn), comprising $2bn from the Department of Defense including ammunition and drones and $10bn from the State Department including budgetary support to the Ukrainian government.
A further $550m will be supplied to both Ukraine and neighbouring Moldova to strengthen their energy infrastructure.
Moldova is Europe's poorest country and has been heavily impacted by the war. Its leaders have warned for several weeks that Russia is plotting to seize power.
On Friday, the EU also approved its 10th round of sanctions against Russia, imposing restrictions on technology that has a civilian and military dual use. (BBC)