French Government survives no-confidence vote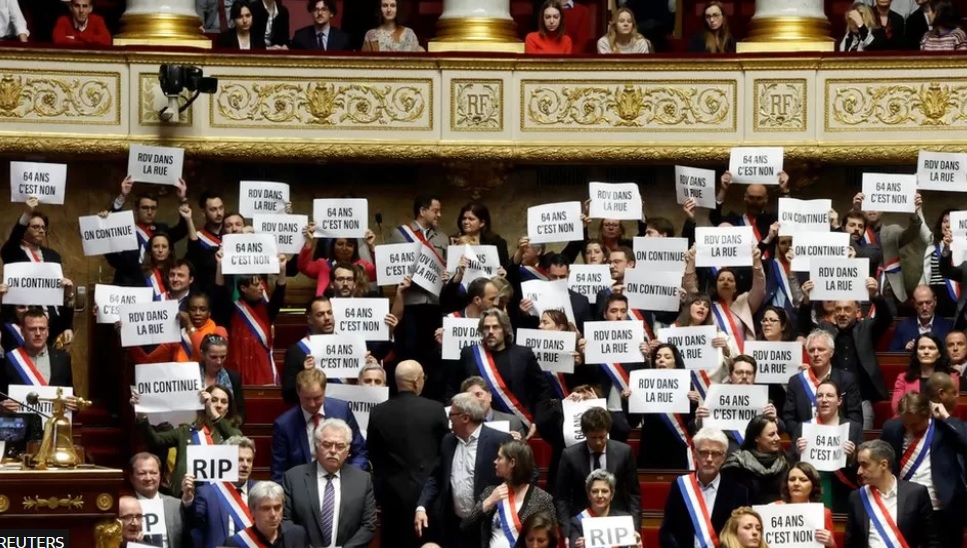 The French government has narrowly survived a vote of no-confidence, which was triggered when it forced through an increase in the pension age to 64.
It sparked new anti-government protests in Paris, where 101 people were arrested after stand-offs with police.
The vote, tabled by centrist MPs, had 278 votes in favour, falling short of the 287 votes needed.
Had it been successful, President Emmanuel Macron would have had to name a new government or call new elections.
A second no-confidence motion, tabled by Marine Le Pen's far-right National Rally party, also did not pass.
Now both votes have failed, the controversial bill to raise the retirement age from 62 to 64 will become law.
The votes were held after Prime Minister Élisabeth Borne used a special constitutional power, called Article 49:3, to push the bill through without a vote last week.
It sparked angry protests at the weekend, with some demonstrators clashing with police and blocking streets with debris fires in central Paris, as well as cities around the country.
Monday's failed votes saw fresh protests in the capital, with a tense standoff between protesters and anti-riot police.
The first motion, which had the backing of several left-wing parties including the Green Party and the Socialist Party, was the only one likely to succeed.
When that vote failed, members of the left-wing contingent that voted for it held placards reading "continue" and "we'll meet in the streets", and shouted that the prime minister should resign.
"Nothing is solved, we'll continue to do all we can so this reform is pulled back," hard-left La France Insoumise parliamentary group chief Mathilde Panot said.
Before the votes, members of the opposition booed and jeered Ms Borne when she took to the podium for a debate, which grew increasingly tense.
The prime minister said that the government had "never gone so far" to find a compromise to pass the law.
Boris Vallaud from the Socialist Party, who backed the centrist the no-confidence vote, called on the government to "withdraw" the pension reform or "submit it to the vote of the French people".
Mr Macron has argued that France's ageing population makes the current pension scheme unaffordable. But that is not a sentiment shared by all in parliament.
The author of the first no-confidence votes, Charles de Courson, said removing the government was "the only way of stopping the social and political crisis in this country".
However the leader of France's conservative Republican party, Éric Ciotti, said last week they would not support the no-confidence motions.
Ciotti said the decision to invoke the clause was "a result of many years of political failures" that demonstrated "a profound crisis in our constitution", but he did not believe the vote of no-confidence was the solution. (BBC)