Sri Lanka needs to boost entrepreneurship to overcome ongoing crisis – Central Bank Governor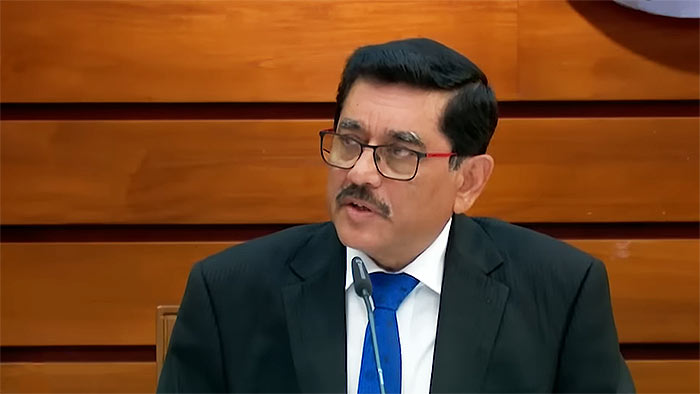 Sri Lanka needs to step up efforts in enticing a larger proportion of its population across all provinces towards embracing entrepreneurship so that the impacts of the ongoing economic crisis would lessen, the Central Bank asserted.
The chief of the country's monetary authority yesterday noted that one of the obvious options locals, specially the youth, can explore, is in becoming entrepreneurs instead of opting to go overseas looking for greener pastures.
However, while it is critical for Sri Lanka, in the current juncture, to have more entrepreneurs, Central Bank Governor Dr. Nandalal Weerasinghe acknowledged that authorities have much more to do in creating a conducive environment for entrepreneurs.
"While policymakers must create an enabling environment for investment and businesses, consistent policies, anti-corruption measures, and governance are important," said Dr. Weerasinghe addressed the national policy symposium on entrepreneurship hosted by the International Labour Organization (ILO), in Colombo yesterday.
"Therefore formulating well coordinated, holistic as well as an actionable national policy approach will remain critical in enabling the envisaged paradigm shift in investment and entrepreneurship," he added.
Sri Lanka holds the 101st position out of 137 countries in the Global Entrepreneurship Index, which reaffirms the need to improve efforts in pushing the development of entrepreneurs.
"This is precisely why there is a large number of people looking to gain employment in the public sector, and then the private sector.
There is no more room for the government to absorb any more recruits, in fact, they need to reduce employees. The solution to this is in entrepreneurship," he stressed.
Dr. Weerasinghe pointed out that some of the key reasons why entrepreneurship is not a popular option among citizens are inefficient access to finance, regulatory hurdles, lack of commercialisation of innovation, negative use of technology, lack of information and data, inefficient positioning in the value chain, and the notion that entrepreneurship is an inferior alternative to a salary-based career path.
The impacts stemming from Covid-19 pandemic, and then the economic and political crisis that followed resulted in numerous uncertainties and instability in Sri Lanka's operative environment.
The harsh conditions directly affected investments and business sentiments. The sharp rise in inflation and the increase in interest rates took away the confidence of potential entrepreneurs to set up ventures.
To reverse the ongoing negative sentiment in this regard, the CBSL head asserted the need to restore price stability, interest rates, and maintain low inflation.
"The objective of the Central Bank is to contain the high rising inflation which is an enemy to any economy. The structural reforms under the ongoing macroeconomic adjustment are expected to correct many of the current impediments to business and investment climate that businesses at any scale have experienced over the years in Sri Lanka," he said.
"We are looking forward to the envisaged return of inflation to its targeted levels of 4 – 6 percent which would help to bring down interest rates as well. We hope that will happen soon and will reduce the cost of borrowings," he added.
Dr. Weerasinghe went on to stress that transforming actions to promote innovation and entrepreneurship will play a vital role in lifting people out of poverty by creating employment and stimulating economic activity, thereby improving the overall economic conditions.
(Source: Daily Mirror – By Shabiya Ali Ahlam)
The post Sri Lanka needs to boost entrepreneurship to overcome ongoing crisis – Central Bank Governor appeared first on ONLANKA News - Sri Lanka News Service to get the latest Sri Lanka Breaking News.