Thousands flee after dam in Ukraine collapses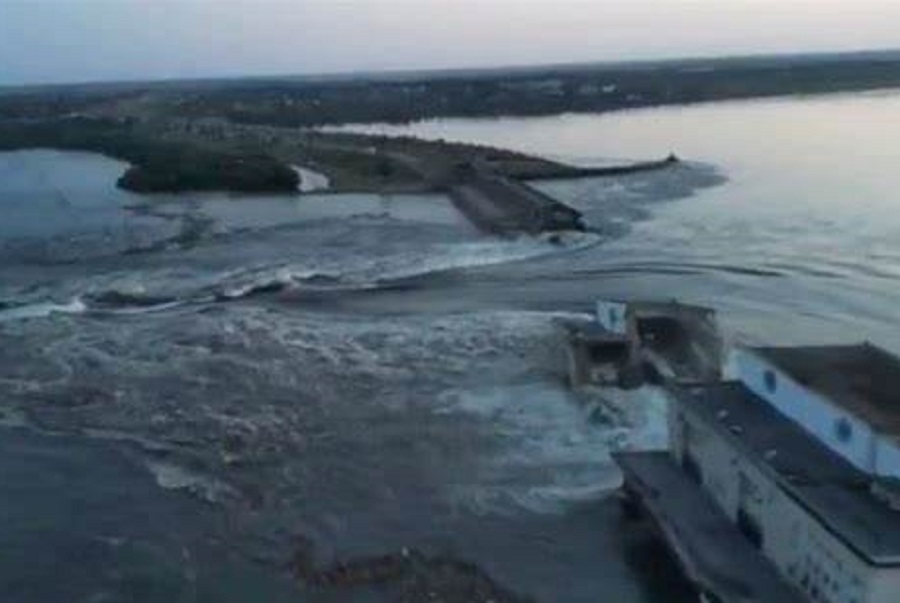 Thousands of people are being evacuated downstream of a major dam which has collapsed in Russian-held Ukraine.
President Volodymyr Zelensky said 80 towns and villages may be flooded after the destruction of the dam at Nova Kakhovka, which he blamed on Russia.
Water is surging down the Dnipro river, and is said to pose a catastrophic flooding risk to the city of Kherson.
Russia has denied destroying the dam – which it controls – instead blaming Ukrainian shelling.
Neither Ukraine nor Russia's claim has been verified by the BBC.
The Kakhovka dam, downstream from the huge Kakhovka reservoir, is crucial to the region.
It provides water to farmers and residents, as well as to the Zaporizhzhia nuclear power plant. It is also a vital channel carrying water south to Russian-occupied Crimea.
Ukraine's state-owned hydropower plants administrator Ukrhydroenergo warned that the peak of a water spill downstream from the emptying reservoir was expected on Wednesday morning.
It said this would be followed by a period of "stabilisation", with the water expected to rapidly recede in four to five days.
There are concerns about the Zaporizhzhia nuclear power plant – Europe's largest – which uses reservoir water for cooling.
The situation there is said to be under control and there is "no immediate nuclear safety risk" for the plant, according to the International Atomic Energy Agency (IAEA).
Video footage shows a torrent of floodwater gushing through a breach in the dam. Several towns are already flooded, while people in areas further downstream have been forced to flee by bus and train.
Abound 40,000 people need to be evacuated, Deputy Prosecutor-General Viktoriya Lytvynova said on Ukrainian television – 17,000 people in Ukraine-controlled territory west of the Dnipro River and 25,000 on the Russian-controlled east.
Also speaking on Ukrainian television, Interior Minister Ihor Klymenko said about 1,000 people had been evacuated so far and 24 settlements had been flooded.
He accused Russia of shelling the southern region of Kherson, from where people were being evacuated, and issued a warning about the dangers posed by mines being exposed by the rising water levels. (BBC)