Maithripala removes Dayasiri from General Secretary post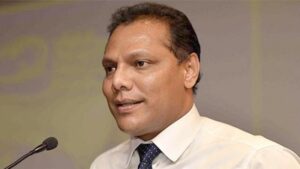 Sri Lanka Freedom Party (SLFP) Leader Maithripala Sirisena has removed Dayasiri Jayasekera from the post of party General Secretary.
Jayasekera said that he has also been suspended from the Sri Lanka Freedom Party.
"I have been informed that President Maithripala Sirisena has suspended my SLFP Party membership, and removed me from my position as General Secretary. I have always been loyal to the party and have only demanded the party make a collective decision in the interest of the people," he said.
Jayasekara's SLFP membership has been revoked with effect from 05th September and a disciplinary inquiry is to be conducted by the party.
The charges against Jayasekara are to be sent to him in 14 days.
Former Central Province Chief Minister Sarath Ekanayake has been appointed as the Acting General Secretary of the SLFP. (Colombo Gazette)