Classic Destinations Joins Internova Travel Group's International Network of Independent Travel ...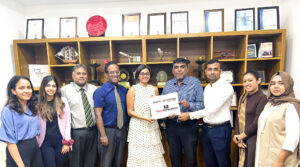 Internova Travel Group, one of the largest travel services companies in the world, continues to strengthen its global presence in the corporate travel arena. Classic Destinations, one of the best Global Destination Management Companies based in Sri Lanka, Maldives and Singapore, announced it has joined the Travel Leaders International network of independent travel agencies, which is part of Internova's corporate travel division.
Classic Destinations will remain locally-owned and will continue to service existing clients while anticipating new opportunities for expansion as part of the international network.
"We are excited about our new partnership with Classic Destinations and the opportunity to expand our servicing abilities in Sri Lanka," said Nigel Parkinson, Senior Vice President, International Network for Internova's corporate travel division" . Our company offers a comprehensive array of travel services, programs combined with innovative thinking and proven best industry practices, that will allow travel advisors at Classic Destinations to easily offer their clients additional services and global servicing abilities through our other international partners around the globe"
Classic Destinations is one of several travel management firms around the world that have signed on this year to be part of the Travel Leaders international network.
"Enhancing our reputation for offering exceptional services, this valuable partnership with a leading global travel company will enable us to offer more customized  services to our international travelers," said Shiham Imamudeen, CEO/Director of Classic Destinations. "We can now leverage the benefits of the international network and its vast suite of technology solutions and other travel management tools to elevate our offerings for a one-of-a-kind value proposition.."
As part of Internova Travel Group, Travel Leaders International's comprehensive suite of programs includes online booking tools, marketing tools, an international destination marketing company network, a vast array of education and training resources, and hotel inventory through our  SELECT Hotels & Resorts and Worldwide Hotels programs. In addition, an end-to-end technology suite supports both international corporate accounts and local customers, including profile management, online trip authorization, data consolidation and analytics, meetings technology and customer reporting.
"Despite partnering with one of the world's largest travel organizations, we will retain the close bond with our customers and promise high attention to detail and exceed their expectations, which we delight in doing," stated Shiham Imamudeen.
"Classic Destinations will sustain its leadership by designing innovative travel options to make travel fun. By leveraging on new digital enhancements, we can enhance our service quality and standards even further when it comes to  Corporate Services, M.I.C.E and Leisure. Moreover, our new international network affiliation will provide our customers with a proven level of unparalleled travel industry experiences and relationships that will further increase the array of travel options available to them, underscored by our signature service."
Internova Travel Group is among the top-ranked travel companies on Travel Weekly's Power List and Buying Business Travel's top travel management firms.