Shining Light on Sri Lanka's Dirty Secret: the Disappearance of Prageeth Eknaligoda
(SALEM) – Exactly one year ago today, we brought our readers the story, Everyone's asking 'Where's Prageeth?' Sadly over this last year, nothing has been learned to bring this important Sri Lankan media figure, Prageeth Eknaligoda, back to his family.
His story has remarkable ties to many other similar occurrences that left behind widows, fatherless children and unanswered questions.
His wife, Sandya Eknaligoda, is featured in a new video which is included below. She offers her thoughts on the disappearance of her husband and
how the voice of the international community could make a difference if it were to be projected. I also asked Sri Lanka Journalist Sonali Samarasinghe, the widow of Lasantha Wickrematunge, a journalist in Sri Lanka who 'predicted his own death' according to Jonathan Steele with The Guardian, to share her thoughts about Sandya, ongoing solidarity, comfort and encouragement for people in her position.
Background on State Sponsored Media Murders & Disappearances
In the article from May 2011, Sri Lanka Tamil Genocide: Killing the Messenger, I detail many of these disappearances and killings of journalists and media employees while explaining how all of those who suffered this fate had one thing in common: they were willing to tell the truth about the Sri Lanka government's campaign to ethnically cleanse the Tamil minority from the North where they had a breakaway state called Tamil Eelam and a formidable resistance, the Liberation Tigers of Tamil Eelam (LTTE) or Tamil Tigers. With the Tamil Tigers in place, the ethnic extinction of Tamils was not possible. The LTTE scared the government troops, and in a fair fight the Tigers dominated.
So the government decided to exempt itself from the international laws that govern war and humanity and they waged a full-scale Genocide against all Tamils in the northern part of the country when a cease fire was in place It is Sri Lanka's president and military who broke that treaty.
In fact Sri Lanka committed 'Total War' against the Tamils and this is the very crime that the Geneva Accord was designed to protect human beings against in the first place; where there is no distinction between civilian non-combatants and and military personnel. Another practice that falls under 'Total War' involves murdering Prisoners of War (POW) and this is another subject I have indulged at length. The links to all of these stories are listed below.
While many media sources place the number of dead from this civil war conflict at 40,000, sources with solid information tell me the number of people who could not be accounted for when the smoke finally cleared in May 2009, was approximately 160,000.
Denial
Supporters of Sri Lanka and the government in particular, deny any and all involvement in this pogrom against Tamils yet it was all heavily documented with video, photos and first-hand accounts from the Tamils, who recorded their own demise; and then begins the video and photo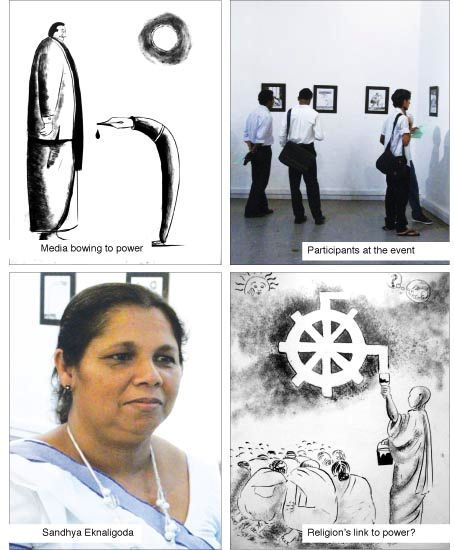 evidence from the Sri Lankan soldiers who committed or were present for these heinous war crimes against the Tamil civilians and the Tamil Tigers. In particular, we have revealed how the Sri Lankan Army (SLA) staged a dead body to make it appear to be that of a combatant. The woman, a journalist with the LTTE, was photographed early on with her hands tied behind her back. It was clear that this young mother, whose name was Isaipriya, like so many other Tamil girls and women, was a victim of sexual violence before being murdered.
Slaughter
In the end, the government of Sri Lanka's (GoSL) decision to slaughter journalists did not work, and even here in the U.S. we are increasingly dialing into what happened. Every person who first discovers the bloody story from this island nation in a modern age seems horrified. Americans live with media that is ignorant as to what is taking place in the world and the small element that knows, fails to influence coverage. Even while 160k people are massacred. The saddest part is that we in the U.S. are isolated from this same threat of death journalists in Sri Lanka face.
The Channel 4 documentaries, Sri Lanka's Killing Fields by Jon Snow in London, put these images into perspective and shocked the western world with the harsh reality of what happened. As far as I know, neither edition of this two-part series have ever aired in the United States, however they are available on YouTube and anyone who needs a copy can write to me at the email below and I will see that you receive one. In Great Britain they were received with much acclaim.
Painful
Sandya Eknaligoda conveys the painful suffering that she and her two sons have experienced with the sudden loss of their father. The truth of Sri Lanka is that many Tamils are kept in hidden camps in the jungle. There are as always, more questions than answers. It remains possible that Prageeth could be alive, it isn't likely but it is possible. This must only increase the agony for a family, yet it leaves a glimmer of hope that others, who know definitively that their loved ones were murdered, do not have. It certainly would be proper for this government to end these practices that create so much hardship and determination.
These are the translated words of the video in English. As she holds the picture up, Sandya Eknaligoda says:
"This is.. this is the day we started to share our life together… our wedding…our ceremony.
I am Sandya Eknaligoda. Prageeth Eknaligoda is my husband.
In 2010 on January 24th he disappeared."
But what happened to Prageeth Eknaligoda?
His wife explains, "Someone took him, made Prageeth disappear."
Who did it?
"My journey to find Prageeth is a big challenge! I have to face an irresponsible Government with no respect for the law. This is the kind of situation and the challenge I have to face in trying to find justice. No one takes it seriously!"
Yolanda Foster in the UK joins Sandya in the video, saying:
"The Sri Lankan authorities have failed to punish perpetrators of serious human rights abuses. It's important that those responsible for Prageeth Eknaligoda's disappearance are held accountable."
Who is Prageeth?
Sandya addresses this question: "Prageeth was a political analyst, cartoonist, human rights activist; a great friend for his friends. a good father, a good husband… and my closest friend. Prageeth worked mostly on issues related to finding justice… for rights, for equality. He struggled for a good society. I believe those activities were the reason behind his disappearance. Prageeth disappeared – that was the only way to silence Prageeth."
Prageeth has been missing for more than two years, Sandya points out.
"I wrote many letters asking for help to find Prageeth Police, human rights commission, media minister, first lady, president, No one responded. This is not my situation aline."
"This society has disappeared thousands, Prageeth was one of them… especially in the North disappearances are happening here still. I have met families of people who have disappeared in the North. If we can raise our collective voice together – that's one way to find justice for disappeared people. The government turns blind eyes and deaf ears on issues of our right for justice. So that has allowed impunity to be established in Sri Lanka. That is why the families of disappeared people never get justice. If we need to get justice, we definitely need international involvement. There's no other way it can happen."
"I think it's one of the worst crimes in the world, making people disappear. It is not just the one person who disappears… the whole family is psychologically killed. Now I have to look after my two kids, I have to play mother and father roles for them. Day to day life is full of challenges and security issues, my journey to find Prageeth is in the middle of it all. When Prageeth disappeared, our children were still in their childhood. Now they are teenagers. Prageeth hasn't seen them growing up last few years. Prageeth should feel and see these experiences. I'm never giving up my effort until the end. Prageeth and others who have disappeared should get justice!"
Indeed, until the international community takes off its soft soul sneakers and straps on the combat boots of justice, political wankers in their jaded rationale will kill and deny; torture and abscond. I remind everyone of the saying, "First they came for the Jews…"
When the government of Sri Lanka made the regrettable mistake of targeting, disappearing and murdering the reporters of this country who dared raise a voice of truth for the Tamil minority culture, it gained a whole new set of enemies; every other journalist alive on this planet. I have never met a single one who approved of government terrorism campaigns to silence political opposition.
Lasantha Wickrematunge
Sonali Samarasinghe has an incredible past; but her life was shattered when her husband Lasantha Wickrematunge who wrote:
"When finally I am killed, it will be the government that kills me."
Addressing Sri Lanka's president, Mahinda Rajapakse in a discussion with a close friend – he spoke of a cold government bent on eliminating those who call its illegal and immoral practices into question. As a political cartoonist, Lasantha knew he was on the radar and being targeted when he wrote:
"In the wake of my death I know you will make all the usual sanctimonious noises and call upon the police to hold a swift and thorough inquiry. But like all the inquiries you have ordered in the past, nothing will come of this one, too. For truth be told, we both know who will be behind my death."
Currently a Writer in Residence in Ithaca, NY, Sonali Samarasinghe continues to keep these stories and their impacts alive and pronounced. In the past Sonali has been a Nieman Fellow at Harvard University, Editor-in-Chief of Lankastandard.com, an Attorney-at-Law, Commissioner for Oaths, Editor in Chief of The Morning Leader, Sri Lanka, and Consultant Editor for The Sunday Leader, Sri Lanka.
With regard to Sandya Eknaligoda, Sonali Samarasinghe said today:
"Women like Sandya inspire us all. What we need are more women and men of integrity and strength like her. She continues to fight for justice not only for her husband but for all of us, for the widows for journalists in exile and for the disenfranchised. I personally feel very much for her as a woman and a journalist because she and I have both felt the terrible loss of a husband in the most violent and brutal way by the hand of the authorities."
Sonali Samarasinghe brings up another significant point; as war crimes and ethnic cleansing continues around the world in places like Burma, Democratic Republic of Congo (DRC), Balochistan and Palestine, even the journalists who do follow Sri Lanka take their eye off the ball.
"I'm distressed to see that Sri Lanka is a country that is quickly being forgotten as the world turns to the next crisis. But if the international community decides to put Sri Lanka's issues on the back burner and does not press for accountability and justice for war crimes, the pervasive culture of impunity will calcify.
Sinhala Buddhist majority culture
People in Sri Lanka live in fear every day. Not the Sinhalese Buddhist majority culture; they rule this place with a deadly fist. The threat remains only toward Tamils and their supporters. They are all the victims of a war against them that really began in 1948, when the British finally pulled their colonial claws out of this place. The northern Tamils have lived in this place for hundreds and hundreds of years. The earliest western explorers noted that Sri Lanka was comprised of two distinctly different cultures hundreds of years ago.
But the government wants an exclusively Sinhala Buddhist nation and they have gone to great length to achieve this Nazi-like dream of exclusivity that does not belong to them. I have discussed the 'white vanning' issue with many people; from the strongest representatives for Tamils in this country, to a high-ranking GoSL official. Nobody denies that it takes place. Only the blame for the origin of these attacks is in question. Of course the GoSL maintains that these Tamil supporters are targeted by 'terrorist' elements, all government culpability is denied.
Sonali Samarasinghe commented on this terrifying part of life facing Tamils at this very moment:
"The white van has become a symbol of untold dread as the government continues to abduct political opponents and dissidents. Abductions are continuing with demonic repetition and according to Rights organisations there have been 58 abductions in the last nine months – a chilling reminder that thought the war ended three years ago the people continue to be terrorised by a despotic power hungry government that harbours criminal elements to further their own agenda."
Indeed, until the international community takes off its soft soul sneakers and straps on the combat boots of justice, political wankers in their jaded rationale will kill and deny; torture and abscond. I remind everyone of the saying, "First they came for the Jews…"
You know the rest. There are no rewards in this life or the next for complacency. Help raise awareness, please repost this article on Facebook, Twitter, other social media and Websites and blogs. Make it happen, enough awareness will force Sri Lanka to the tables of justice and accountability.
For God's sake, the world community should intervene to help families determine the fate of their loved ones. The 'secret' will die with increased media focus.
Courtesy Salem-News.com