Many debt ridden countries, relying on  India's assistance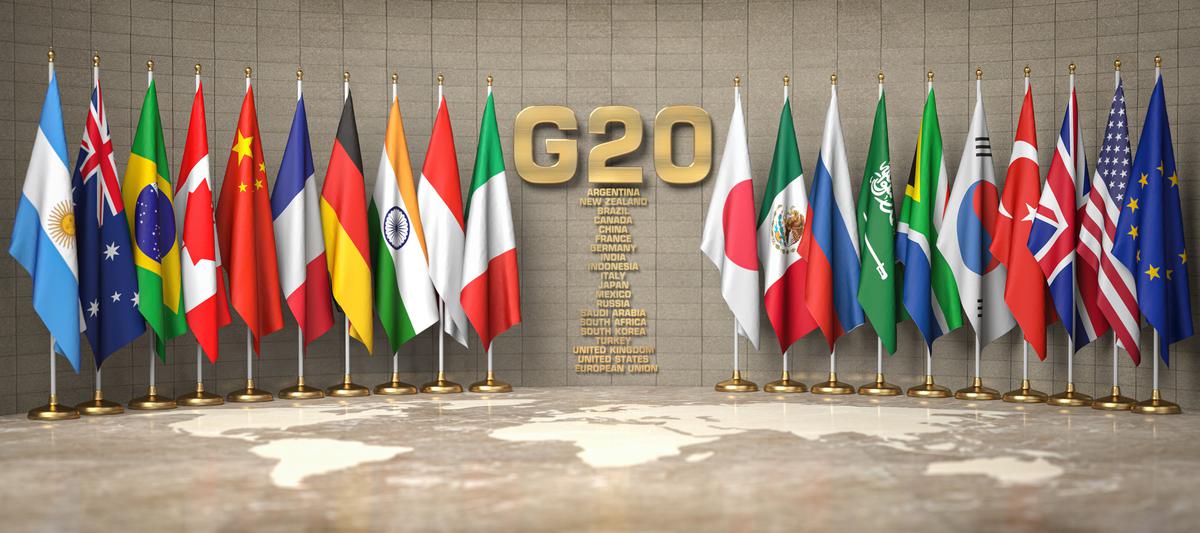 The New Year 2023 is definitely going to be a significant year for India's leadership ambitions.
India's presidency of the G20 forum as well as the Shanghai Corporation Organization (SCO), brings with itself the rare opportunity to present to the world that India is well-prepared and well-equipped to clinch its position as an emerging power. The G20 forum's presidency, in particular, has the potential to not only elevate India's status as a dependable global leader but can also affirm India's role in global governance as well. Therefore, it should also be undertaken with a focus on permanency in terms of impact as well.
India's chosen theme for their  presidency has been unveiled to revolve around 'Vasudhaiva Kutumbakam — One Earth, One Family, One Future, which reiterates the motto of collectively responding to global challenges.
India's leadership at the G20 focus on the urgent needs of its neighbouring countries and the global south in expediting debt relief services, in addition to its agenda on Global Health, Digital Economy and Transformation, Climate Change, Food Security and Global Financial Stability.
During 2022, India's neighbouring countries such as  Sri Lanka, Bangladesh and Pakistan have sought financial assistance from the IMF as high oil prices due to the ongoing war in Ukraine have further stressed volatile economies in the region already struggling post-COVID-19.
The situation is worse for some low-income countries like Zambia, which managed to secure vital debt relief deals through G20's initiative.
Recently, the US Secretary of the Treasury Janet L. Yellen said that the Common Framework, which intended to bring all major bilateral creditors together to coordinate debt relief for low-income countries, had, in fact, failed to deliver on its promise due to China's lack of cooperation.
Apart from loans provided by the Paris Club members and multilateral institutions, China is one of the largest bilateral creditors to low-income countries and has played a significant role in financial lending. China has faced criticism for its lending practices to poorer countries, accused of leaving them struggling to repay debts and therefore vulnerable to pressure from Beijing.
According to a report by BBC, research by AidData, an international development body at William & Mary University in the US, finds that half of China's lending to developing countries is not reported in official debt statistics.
It is often kept off government balance sheets, directed to state-owned companies and banks, joint ventures or private institutions, rather than directly from government to government.
There are now more than 40 low and middle-income countries, according to AidData, whose debt exposure to Chinese lenders is more than 10% of the size of their annual economic output (GDP) as a result of this "hidden debt".
China does not publish records of its foreign loans, and the majority of its contracts contain non-disclosure clauses which prevent borrowers from revealing their contents.
However, India's role, in such situations, is one of facilitating agreements centered around helping volatile economies recover through deferred repayments. This would require India to play a vital role in convincing private lenders as well as China to cooperate constructively in facilitating the challenges of excessive debt burden. More so, India should also pitch for the inclusion of volatile middle-income countries on a case-by-case basis into the framework which will prevent some of the most volatile middle-income countries, especially the ones struggling financially in India's immediate neighbourhood, from an upcoming economic crisis.
In September last year, India became the world's fifth-largest economy, dislodging the United Kingdom, its former colonizer. Described by the International Monetary Fund as a "bright spot" amid a global economic slowdown, India's economy was estimated to grow by 6.8 percent in the fiscal year 2022—second only to Saudi Arabia and much faster than the G-7 economies.
The G-20 presidency gives India a chance to shape the agenda for global cooperation as the world emerges from the shadows of the COVID-19 pandemic. The group's importance is reflected by its economic strength: Its member states account for more than 80 percent of global GDP, 75 percent of global trade, and 60 percent of the world's population. As such, India is eager to project their presidency as an opportunity to underline its emerging status as a "leading power," as Indian External Affairs Minister S. Jaishankar said earlier.
India, which is one of the fastest-growing economies in the globe, finally got the opportunity to execute its global vision and grand strategy, and secondly, the South Asian region is going to get benefits through India's leadership in G-20.
India assumed the G20 Presidency from Indonesia on December 1st and will convene the G20 Leaders' Summit at the level of Heads of State / Government on 09 and 10 September 2023 in New Delhi. India holds the Presidency of the G20 from 1 December 2022 to 30 November 2023. The G20 or Group of Twenty is an intergovernmental forum comprising 19 countries and the European Union.
Moreover, there is no doubt that India's G20Presidency will give the South Asian region, especially Sri Lanka a great opportunity to get out of its economic crisis.
During a recent meeting between Sri Lanka's High Commissioner to India, Milinda Moragoda and Chief Coordinator for India's G20 Presidency for 2023, Harsh Vardhan Shringla, the opportunities available to Sri Lanka, as a neighbour of India, was discussed at length as well as how to engage with the work of the G20.
The duo met in New Delhi and discussed the avenues through which Sri Lanka could engage with the G20 during India's presidency of the Group. The discussion also focused on the possibility of understanding the G20 approach towards international financial cooperation and debt restructuring.
Since India's foreign policy has always highlighted its neighbourhood first policy, it must use its G20 presidency to push forward agendas keeping the larger interest of the region in mind altogether we shall grow.
During its G-20 Presidency, India, as the global leader, can showcase and help other developing nations build on education, trade, technology, and the economy, with blended learning and collaboration. India has a unique opportunity to demonstrate its acclaimed potential as the world leader in this space at this moment.
India's G20 presidency comes at a difficult time when the global economic outlook for this year remains bleak. The IMF and other international agencies have scaled back a number of G-20 country forecasts, with risks shifting to the downside.
In this global context of mounting financial vulnerabilities and heightening geopolitical tensions, India will have to steer discussions and drive collective action at the G20 to advance global economic stability and peace. It is not an easy task to develop international cooperation at a time when the global economy is becoming increasingly fragmented and distinct geopolitical blocs are on the horizon.
Aside from domestic constituents and stakeholders, international eyes are also on India, as the country has always been a voice for the poor and developing world in the international arena.
This historic role brings additional responsibilities as many non-G20 countries (particularly from the global South) look upon India to voice their concerns at the G20, whose decisions shape their economies. As the G20's poorest country, expectations from India are much higher than any other member country, as poor countries would expect India to speak on their behalf at the G20, where they have no representation at all.
Therefore, with India's presidency at the G20, there is a lot of hope and expectations that are placed on India by many developing nations and given India's neighbourhood policy first and its desire to help underprivileged countries, these countries have placed great trust in India.