Sri Lanka to create cities that never sleep to boost tourism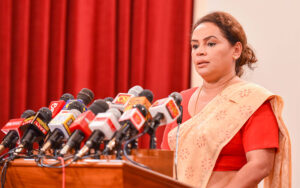 Sri Lanka is to create cities that never sleep by revising certain regulations in an attempt to boost tourism.
Minister of State for Tourism Diana Gamage said that the country has plans to launch promotional campaigns aimed at attracting 1.5 million foreign tourists to Sri Lanka by the end of this year.
She emphasized the Government's commitment to ensuring the safety of tourists and mentioned initiatives such as establishing taxi associations to enhance the visitor experience.
Speaking at a press conference held at the Presidential Media Centre today (27), State Minister Diana Gamage also highlighted the transformation of high-tourist-traffic cities into vibrant, non-stop destinations.
"In comparison to the previous year, we have witnessed a remarkable surge in tourist arrivals during the first nine months of this year, with approximately one million foreign visitors gracing our shores. We hold high expectations that this number will soar to 1.5 million by year-end, and accordingly, we have charted out plans for special promotional events to attract even more tourists," she said.
The State Minister said that the Government is looking at promoting night-time facilities in popular cities like Ella, Nuwara Eliya, Galle and Colombo to cater to the needs of tourists.
"We also aspire to transform tourist-centric cities into vibrant, 24/7 hubs by revising certain regulations to facilitate tourist spending. Our goal is to create an environment where tourists are encouraged to contribute to our nation's economic growth," she said.
She also said that legal actions will be taken against local businesses engaging in unfair and illegal pricing practices targeting tourists.
"Additionally, we are in the process of establishing taxi associations to enhance the convenience and safety of tourists, thus curbing illegal activities. The Ministry of Tourism is fully dedicated to this cause and has placed it under its special attention," she said.
The State Minister also said that the Cabinet has granted approval for the hemp cultivation proposal, aimed at bolstering the country's foreign exchange reserves.
She said the official gazette notification is expected to be issued within the next two weeks. (Colombo Gazette)